Vocational Coding* in High-Schools
*Frontend Web-Development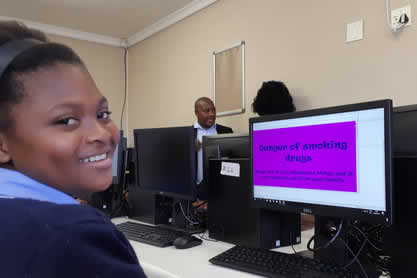 "I make websites to give a message."
Lebohang Maponya (13)
Itirele Zenzele, Diepsloot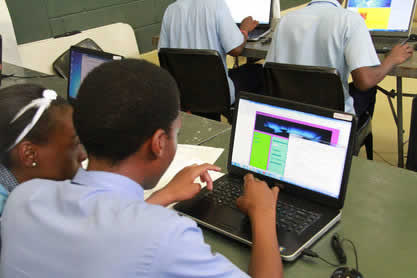 "I love the design process in making my own website."
Web-Design Bootcamp
Blue Eagle, Cosmo City
How we're different
2.
SUPER FOCUSED
To be good at something you've got to focus.
Be an amazing Frontend Web-Developer as soon as possible.
3.
OFFLINE
Use our custom-built PDF's for full-control coding at home or school.
4.
ON YOUR PHONE
Code on our website anywhere.
No app. Just pure fun.
Code now.
5.
CREATED FOR HIGH SCHOOLS
Your talk, your mission, your priorities, your friends & your dreams.
No limits, just you, us and a bit (a lot) of code.
6.
ENTREPRENUERIAL:
Learn to make products people will pay for.
Our goal is to allow you to be so good at Web Development you can get paid for it before you leave school.
7.
HAVEN'T GOT A TEACHER?
Learn with friends. The projects are made for self-and peer-learning.
8.
CREATE YOUR SOCIAL IMPACT
Earn a full certificate by teaching other learners code or building a website for your community.
1.
CODING FROM FIRST MINUTE
No Drag-&-Drop.
No prep work.
No distractions.
Pure HTML, CSS & JS.
You might know us from

"The word on the street..."
I feel it was super cool and magical. I didn't learn it realquick because certain mistakes I would make, but it taught me focus. I love the creative part of coding. It makes me think outside the box. I would love to venture into the computer science world and see what more it has to offer.
Talent Dlamini Grade12 -Lofentse Girls High
The learners are now choosing CAT [ IT-related] subjects and this has brought so much joy to the school. The learners are so eager to learn and their CAT [IT-related] marks are increasing.
Sifiso Khoza ICT Coordinator -Namedi Secondary
CodeJIKA facilitation is more learner-centered and very skills-based, as opposed to a traditional approach. I have seen some learners who are not very gifted academically, doing computer programs and web pages.
Joel Mavuso District-ICT Coordinator -Ekurhuleni North
...it's a wonderful teaching method for us teens who are always looking for a challenge. I learned surprisingly fast. The very first two projects I completed in a week, and project 3 I completed in 3:25 hours. I'm most definitely looking forward to working with many more projects, can't wait!!!
Salma Chan Grade 11 -UJMA
FAQ//: Freakin' Awesome Questions
A vibrant eco-system of student-run coding clubs in secondary schools.
Operationally it is divided into 3 Pillars;
Online (platform and partners),
Awareness (media & advocacy) and
Hands-on (In-school Clubs & Events)
PRONOUNCED: CODE–GEE-KA
JIKA MEANS "DANCE" OR TURN IN ZULU, A SOUTH AFRICAN LANGUAGE.
You learn how to code, starting with "1‑Hour‑Website" - How to code a simple website using HTML & CSS. Each consecutive project builds on this skill until you can customize and build beautiful business websites for SMEs from scratch – Like a PRO.
Run an event or assist schools or other organizations who are.
Easy. Go to the "How to run an event" page here to get started. There you'll find the curriculum, suggested format, easy to use curriculum and tools to engage volunteers and even fundraise for the event.
Anyone can run an event. It's real fun and it's about learning together and allowing others to have space to grow and someone who believes in them. You should have some desire to learn and work with the kids to find solutions though.
There is no official version for primary schools, but from what we've heard the 5th, 6th and 7th graders love the program as well.
Of course. If you've already left school you can join the online CodeJIKA program and can help in organizing events and mentoring. The clubs and competitions are only for secondary school learners at this time.
CodeJIKA teaches you how to become a Junior Frontend Web-developer, as fast as possible. It's about building communites and creating revolutions within the existing educational system, stemming from the student base rather than a teacher-driven approach. CodeJIKA's projected timeline is 3 years per group. You can go from never touching a PC to learning to hard-code professional websites in 6 months while still in school. Our Belief: Our youth are engines of the new economy and are instinctively infused with a desire to build - Nothing can stop them! We're here to provide tools. That's all.